I am pleased to announce ServicePlanner version 1.3.0.
Witnessing Partners
On the Activity Calendar, you can now select a Partner for each day. Tap their name to call or message them. Use to toggle to indicate if it is a "Confirmed" arrangement – the icon will show in grey if "unconfirmed", or black if "confirmed". Notifications will remind you the night before – you can customise the reminder in Settings > Notifications.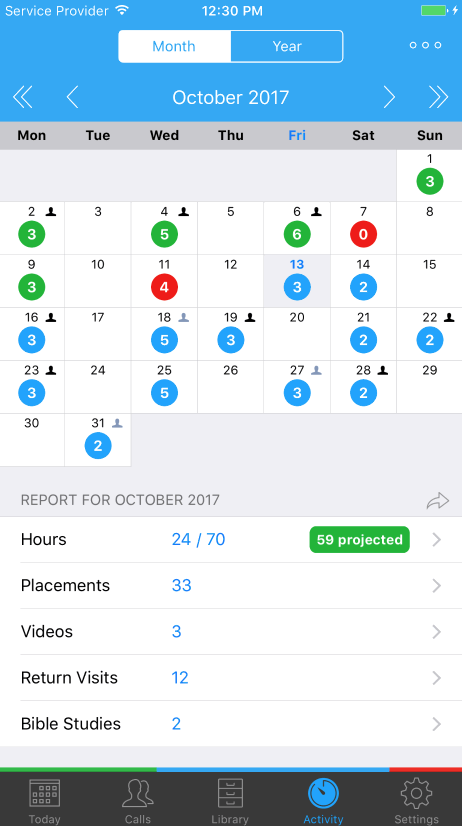 Notifications
In addition to the Witnessing Partner Reminder (mentioned above) additional notifications have been added:
A reminder to submit your field service report. By default this will notify you on the last day of the month at 6pm.
A reminder about upcoming Visits you have scheduled. By default this will notify you on the day the visits are scheduled at 7:30am.
You can customise these reminders in Settings > Notifications.
Also don't forget that these are standard iOS Notifications – which means that you can also change the settings in iOS Settings > Notifications. For example if you wanted to disable the audio sound made when a notification happens, that is where you do it.
App Badge Indicator
The App Icon will now show a red "1" to indicate that the Timer is running. This can be disabled in Settings > Timer.
Import Device Contacts
If you tap+hold on the "+" button on the Calls tab, there is the option to "Import from Device Contacts". This is a basic importer that allows you to pull in existing Contact details from your Address Book. See the website for full details on how this works.
Messaging a Contact
If a Contact has a Phone number, the "message" button will now allow messages to be sent via Telegram, WhatsApp, Viber and other apps – depending on what apps you have installed on your device.
Auto-Select New Contacts
When you add a new Contact, it will now auto-select and highlight that Contact in the List. And if the Contact has been geocoded, then on the Map it will auto-select the marker for that Contact. That is assuming that your search and Filter settings do not exclude the Contact of course…
Background Sync
When the app goes into the background it will now perform a single "push" of any changes made on your local device to Dropbox. This will trigger if you press the Home button while using ServicePlanner, or switch apps, or turn off your device. This ensures that you do not lose any changes and that data is in sync between devices.
Improved Time Zone Support
Some users in places like Paraguay were experiencing various issues. These have been resolved.
Support for Portuguese Users
ServicePlanner is now translated for Portuguese users! If you would like to help translate the app into your language please log your interest on the Issue Tracker.
I hope this update helps you to be increasingly more effective in your ministry and get the most out of using ServicePlanner.
Positive reviews on the App Store are incredibly helpful. If you are enjoying ServicePlanner, and feel inspired to leave a review, it would be greatly appreciated 🙂
Thanks for your support.