Where did all my Contacts go?
Occasionally I get a panicked email because a user cannot find their Contacts. They go to the Calls tab and the Map or List of Contacts is empty.
If this happens to you, it will likely be for one of the following reasons:
A Filter has been applied that is hiding all your Contacts.
You are syncing to Dropbox, and someone has moved or deleted one or more ServicePlanner folders inside Dropbox, generally from a desktop computer.
The app was deleted and reinstalled.
The following sections will discuss each of these issues.
If a Filter is Hiding Your Contacts
A big clue that indicates if a Filter is hiding all your Contacts is shown on Contacts list. Look at the Search bar – what does it say? If it says something like (0 of X) then you know you still have X Contacts.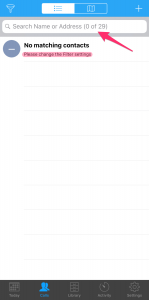 At the top / left of the Calls tab is the Filter button. These Filters control what Contacts are displayed in both the Contacts list and map. Click on the Filter button, and along the top choose "Saved Filters", and then choose one of the default filters like "Contacts by Locality". This will reset the current filter and hopefully show you all your contacts again.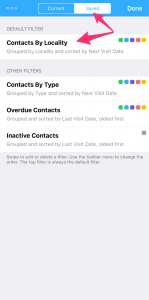 If you Moved or Deleted one or more Dropbox Folders
When ServicePlanner syncs to Dropbox, the files are located in the folder "Dropbox/Apps/ServicePlanner/". You cannot change the location. If you move or delete this folder, or any of the folders inside, then the next time Dropbox syncs back to your mobile device your data will be deleted from ServicePlanner.
If this happens you must move the folders back to the correct location. If the folders were deleted then Dropbox gives you 30 days to restore the files. To do this follow the steps here.
If the app was Deleted and Reinstalled
So this one is tricky. Like any app, if you have not used the backup tools provided, then you may be out of options. To clarify, ServicePlanner provides two backup tools:
Dropbox Sync. This allows auto-backup of your data to Dropbox, and optionally it will sync your data between devices if you have ServicePlanner on your iPhone and iPad for example.
Manual Backup. This creates a ZIP file of your data that you can email or store somewhere and then restore when needed.
If you delete the app, and you did not use either of these options, then you have likely lost all your ServicePlanner data sorry, not just your contacts.